Fancy owning the FASTEST Amiga on the planet?
This is your chance.
On June 4, we will be handing over this BEAUTY & BEAST rolled into one to the lucky winner of our creative contest.

What you'll be getting:
A fully working Amiga 500 with a REV6A motherboard.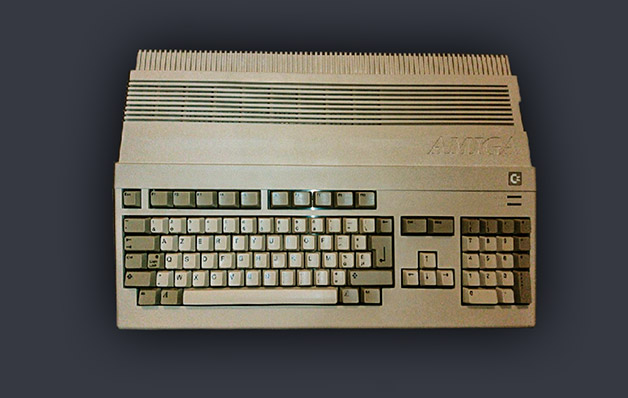 INCLUDED
a PiStorm - this is an adapter that replaces the CPU and allows you to use a Raspberry Pi as CPU, Hardisk, Graphics card and Memory.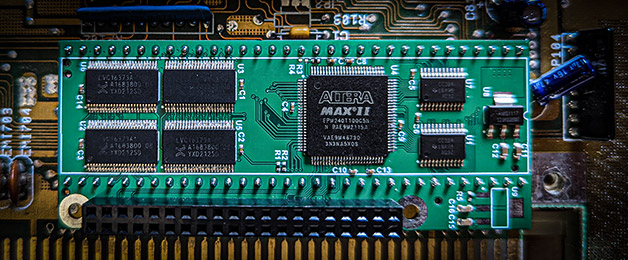 INCLUDED
The elusive Raspberry PI3A+ - the fastest Pi model that is still small enough to fit inside the case underneath the keyboard.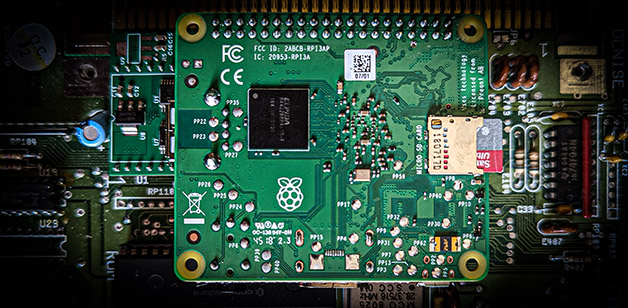 This puppy is FAAAAAAAST!!!
The Pi is running Emu68 - a freaking awesome bare metal CPU emulator that zips at ROCKET speed.
We're talking 800+ Mips here, that's more than 600 times faster than a stock 500. (Okay, Okay ... you can't really count the MIPS on a emulator, we know, but trust us: it's FAAAAST)
Next to the speed, the piStorm also delivers full RTG (up to 1920x1080 resolution in 32bit), a whole smackload of RAM and a harddrive in the form of a microSD card.





INCLUDED
a 64GB MicroSD card filled TO THE BRIM with goodies:


All the WHDLOAD games you can dream of - about 5000 of them
the fully configured and pimped Caffeïne OS - based on AmigaOS3.9 - packed with a full range of software
an insanely large collection of MOD files to get your retro music fix
a collection of RTG games (Yes, you can play DOOM, or QUAKE, or QUAKE2 or DIABLO, or METAL SLUG, or ....)
and last but not least: we extra-pimped the OS with a super R@RE background and icon set that is totally unique and specially made for this machine only.
You can be 100% sure that you'll have a truly one-of-kind installation there.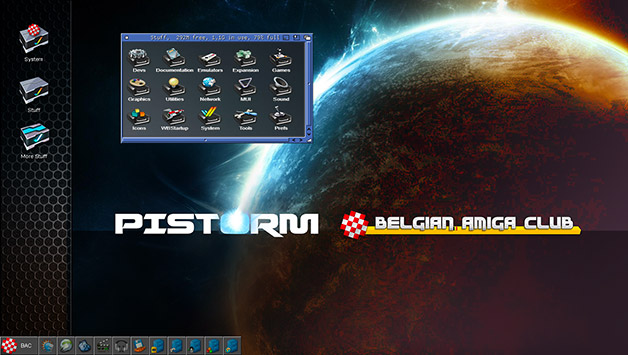 INCLUDED
A brand new vintage mouse (New Old Stock), just think of unwrapping that never-been-opened box ... bliss!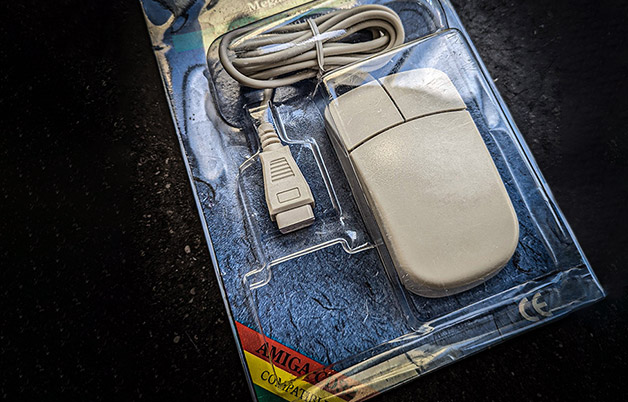 INCLUDED
This funky JoyStick (with auto-fire option)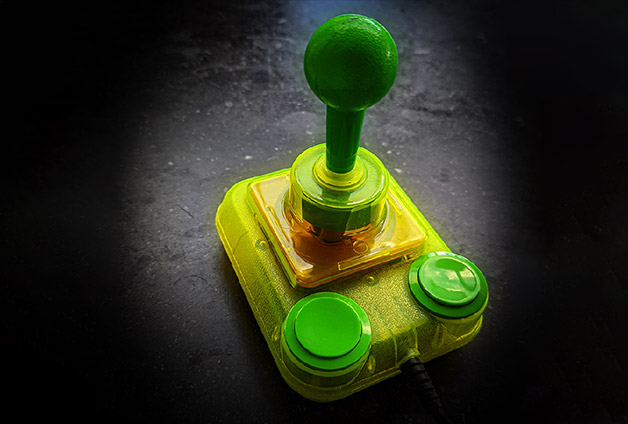 and LAST BUT NOT LEAST:
The Amiga has serial number ...... 1 !
This surely must mean it's the first ever produced Amiga 500, right?





(P.S. this is a joke, there are lots of Amigas with serial 1)

THERE'S MORE!
The Amiga includes a 512k ram expansion and a PSU
It has a custom 3D-printed sideport panel to allow the HDMI and SD card to be easily accessible from the outside.
It comes with a AZERTY keyboard but we'll bring a QWERTY as well, so if you win, you can choose which keyboard layout you want.
We also supply the original Motorola 68000 CPU and the original sideport panel if you would ever want to restore the Amiga to it's full original glory.
and finally
HOW CAN YOU WIN THIS AWESOME MACHINE?
It's simple:
Participate in our contest which is .... drumroll ... a "made on Amiga" PIXEL DRAWING contest!
The rules of the contest:

You create a drawing/graphic/painting on the Amiga using Amiga software of your choice (Deluxe Paint, PPaint, PhotoGenics, ArtEffect, TVPaint, Brilliance, ... take your pick)
The subject will be revealed on the club-event itself and you have the whole day (let's say up to 21h or something) to create your work.
Don't worry if you're not a pixel artist: anything goes: a cartoon, a self-portrait, abstract work, a Bob Ross impression or more like Warhol? ... everybody can join and everybody can create. (remember BudBrain ? You can do that too!)
We certainly don't rate on gaphical skilzzz alone: the intention, the idea, the funniness, the cuteness ... whatever persuaded the audience because ...
At the end we collect all works and show them on the big screen - the audience will get 1 vote per person to determine the winner.
You have to create your work on Amiga so preferably bring your own machine with your favorite graphics software pre-installed.
There will be some additional machines available if you don't have your own, but don't count on it.
(Emulation on your PC is somewhat allowed, but please don't cheat by just gabbing something of the interwebs :-) )
So.... fire up those miggies and start flexing those pixel-fingers, because on June 4... you'll need them!

See you there.